For the past four years, we have dramatically improved how we work with the Ocean Health Index by embracing open data science practices and tools. We now work in a way that is more reproducible, transparent, collaborative, and open, with more emphasis on communication. Our work is more reproducible and streamlined, and more than 20 countries around the world are building off our science and our code to assess ocean health in their own jurisdictions.
We're sharing our story because at the time we thought this transformation was intimidating, but we are living proof that it's possible. By describing specific tools and how we incrementally began using them for the Ocean Health Index project, we hope to encourage others in the scientific community to do the same — so we can all produce better science in less time.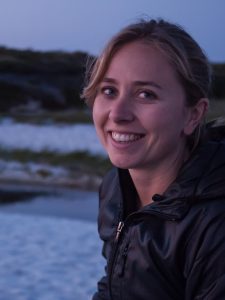 Speaker: Julie Stewart Lowndes
Julie is a marine biologist working to bridge science and resource management. In her role as project scientist for the Ocean Health Index, Julie facilitates the adaptation of the OHI+ assessment framework to smaller spatial scales relevant to marine policy. She leads trainings internationally and provides conceptual and technical support for independent OHI assessments.
Prior to joining the Index team, Julie completed her Ph.D dissertation at Stanford University's Hopkins Marine Station, researching potential effects of the Humboldt squid in the California Current System on coastal fisheries in a changing climate.